Get to know your CADA/West
September 2014 Member's Newsletter
This edition features a profile of Pamela Rosa, Co-Founder of Harbour Dance; info for how to sign-up for Dance Response & see shows for $7; CADA Cafés are back!; & an announcement of the 2014–15 CADA/West Board of Directors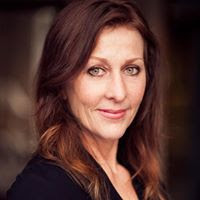 I was born in Edmonton and started dancing there when I was 4. I was a real tomboy and I think my mother thought Ballet would give me grace, but really it just made me stronger and a better tomboy.
We moved to Vancouver when I was 8 and I kept up with my ballet, eventually moving to West Vancouver and studying with Norbert Vesak and Nadia Potts. Norbert was my first "Jazz teacher". He had done West Side Story and I was totally hooked on the style. From then on I studied Jazz and Ballet intensely. I ended up studying with Danielle Clifford in her studio in North Vancouver when I was about 15. I eventually taught Jazz for her there. That was our first business venture together.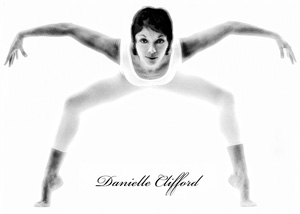 Danielle is, of course, the other Founder of Harbour Dance. She used to dance with the Nice Opera Ballet in France and moved to Vancouver when she was 29. She has trained so many dancers over the years. It is quite incredible to think of all the dancers that have gone through these doors. Who knew then that we would spend our lives together as studio partners (its been 45 years)!
I studied and worked with Jamie Zagoudakis and Jim Hibbard at Synergy when I was 16. Jim had just moved from LA and was my first commercial Jazz teacher. I worked with him for many years doing CBC shows (Paul Anka series, Rene Simard and countless specials that he Choreographed along with others, Jeff Hyslop included).
I was very lucky to be able work as a paid dancer/singer for many years.
Harbour Dance started in 1984. This year is our 30th Anniversary. We are very proud of the studio and our wonderful teachers. We originally called it Harbour Dance because we were opposite the harbour on Hastings. When we moved to Granville, my husband said that the name was still appropriate because we are a 'harbour' for dancers.
I always think of that line from Cabaret: "Leave your troubles outside, here life is beautiful".
Dance has transitioned in so many ways over the years. There used to be such a strong divide between Ballet, Jazz, Modern, Hip Hop, etc. Now when I watch a Hip Hop class in one studio and Contemporary in the other, there are so many similarities. Everyone learns from each other and picks up new ways of moving. Even Crystal Pite has been seen in Eric's Hip Hop class!
Some of the dancers you might know that trained as younger dancers here are Josh Beamish, Shay Kuebler, Josh Martin, Tara Jean Popowich, Lisa Stevens, Wynn Holmes, Nicolas Archembault, Valerie Ho, Julie Tomaino, Kelly Konno, David Raymond, Deanna Peters, Rachael Poirier and so many others. These dancers have all gone on to become very respected professional dancers, choreographers and/or trainers, not just in Vancouver, but world-wide.
Danielle retired as my partner 3 years ago, but still teaches all her Ballet Classes. She is now 72 and can still out dance everyone in her class. She is my inspiration!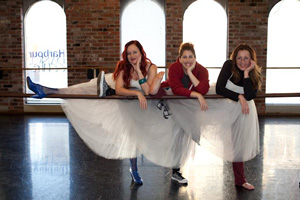 My new partner Moe Brody, who is a real dynamo and full of ideas and energy, now runs our Intensive Training Program. Moe teaches Contemporary, Jazz, Hip Hop and Tap and is a huge asset to the studio. She has a wonderful sense of humour and keeps us laughing daily.
Sabine Clifford (Danielle's daughter) is our techie. She does all the stuff I hate to do: computer programing and runs the desk staff. She adds another dimension to what is needed in the running of the studio.
"When new students walk up those 3 flights of stairs (Grant Strate used to say that was the litmus test to see if you could make it through a class) and tentatively come in our doors asking about beginner classes, saying they have never danced but always wanted to, then I see them a year or more later looking so confident and happy and totally hooked. It is one of the best feelings to know that you have been able to facilitate that."
Harbour Dance is a place to dance, for everyone. We appreciate how many hours of training go into becoming a professional dancer. Most dancers work two part-time jobs, train 20 hours per week and are exhausted most of the time. It is a tough and competitive art form, but also extremely satisfying for the body and soul. We try to support these dancers as much as possible and we offer all CADA/West members reduced rates for their classes.
It has been our pleasure for 30 years to be here for everyone and offer excellent classes. We hope to be here another 30 years for the next generation.
Most Sincerely,
Pamela Rosa
Dance Response 2014–15
Dance Response is back with exceptional ticket prices and an interdisciplinary season! Open to student, emerging and professional CADA/West members, tickets to shows are only $7 each! Contact our office to apply for your spot.
Here are the shows for 2014/15:
CADA Cafés: you asked, we answered.
CADA Cafes are back! Hosted by Kristina Lemieux and Jessica Wadsworth, we invite you to participate in discussions affecting your career in a warm and friendly environement. These free events are open to all members, but are especially useful to new members and early career dance artists. Subjects explored are:
Does Movement + Dance = Art? An exploration of what it means to be a professional dance artist in the 21st Century
Learning to Dance: what is legitimate training, who decides and why does it matter?
Why CADA/West? The possibilities and the necessities for keeping it real and relevant amidst a sea of change
We provide light refreshments and an open-minded atmosphere. Contact our office for more details.
CADA/West Board of Directors 2014—15
We would like to introduce our 2014–15 Board of Directors, elected by the members of CADA/West at our July 12 Annual General Meeting.
We are happy to introduce this group of new and returning members. We thank these representatives from our community for their generous contributions to CADA/West and its membership:
Starr Muranko
chair,
cada/west board of directors
independent dancer / choreographer, artistic associate Raven Spirit Dance
Starr is a professional dancer and choreographer in traditional & contemporary aboriginal dance and works with Raven Spirit Dance and the Dancers of Damelahamid.
Vanessa Goodman
vice-chair,
cada/west board of directors
dance artist / co-artistic director The Contingency Plan / Pilates Instructor
Vanessa received her early dance training in Toronto and holds a BFA from SFU. A company member with Dancers Dancing since 2006, she has also interpreted works for Justine A. Chambers, Jennifer Clarke, Marla Eist, James Gnam, Lisa Hostman, Jennifer Mascall and Julia Sasso. Vanessa's choreography, with The Contingency Plan and independently, has been presented at various venues.
Lexi Vajda
secretary,
cada/west board of directors
independent dance artist
Lexi trained at the Goh Ballet, Danzmode Productions and Pacific DanceArts and has further pursued her training with the Modus Operandi contemporary training program. She has had the pleasure of working with OutInnerspace Dance Theatre, Amber Funk Barton, Alison Denham, Karissa Barry, Jennifer Mascall and MOVE: the company.
Ben Shockey
treasurer,
cada/west board of directors
General Manager Out Innerspace Dance Theatre & Modus Operandi
Ben is employed by New Works, where he has been General Manager for Out Innerspace Dance Theatre and the Modus Operandi Training Program since 2013. Prior to that, Ben was the Executive Director of the Friends of Sharon Art Studio, the non-profit support and programming arm of the city-run Sharon Art Studio, San Francisco's largest public arts education facility. He is thrilled to offer his support as a new Director at CADA/West and looks forward to helping sustain and enhance this vital organization.
Kat Single-Dain
director,
cada/west board of directors
writer / director / choreographer / co-founder Dusty Flowerpot Cabaret
Graduating with honors from UC Berkeley and UBC, Kat found her niche in the rare and wonderful intersection of character development, clowning and dance—prioritizing honesty in art to connect performer and audience. She is the Performance Director for the Parade of Lost Souls Festival.
Tejinder Singh
director,
cada/west board of directors
Bhangra dance artist / executive director Surrey India Arts Club
Tejinder has studied Bhangra since 1985 and enjoys a wide and successful career as a performer, choreographer, teacher and producer. He moved to Canada from India in 1999 and began working as executive director of the Surrey India Arts Club.
Olivia C. Davies
director,
cada/west board of directors
Contemporary Aboriginal Artist / Communications Coordinator MataDanze Collective
Olivia creates and performs Contemporary Aboriginal Dance and Theatre. Recent artistic collaborations include work with Starrwind Dance Projects, Body Narratives Collective and the Vancouver Fringe Festival. She co-founded Toronto's MataDanze Collective in 2006 and maintains her connection today as their Communications Coordinator. In 2014, Davies joined the board of urban ink productions, bringing her expertise in event coordination to the Fundraising and Marketing committees. Davies lives in East Van.
Dario Giuseppe Dinuzzi
director,
cada/west board of directors
Professional Dance Artist / Artist In Residence Ballet BC
Before his career as a professional dancer, Dario was a street performer in southern Italy. He trained as a dancer in Rome and Florence. He has worked for internationally renown contemporary ballet companies like Aterballetto (Italy), Les Grands Ballets Canadiens and Ballet BC (Canada). His choreographies have been presented in Italy and Canada. He currently covers the position of Artist in Residence at Ballet BC. He dedicates most of his time exploring movement language through choreography and teaching.
Renee Sigouin
director,
cada/west board of directors
Professional Dance Artist
Born in Saskatchewan, Renee is a graduate of Modus Operandi. As an independent dance artist, Renee choreographed/performed solo work in Silo à Souvenirs and has performed in the Young Choreographer's Festival NYC, Vancouver 2010 Opening and Closing Ceremonies, FUSE at the Vancouver Art Gallery, BLOOM and Vancouver Culture Days. Upon graduating from MO, she enjoyed apprenticeships with Justine A. Chambers and Dana Gingras and currently works as interpreter with Vancouver companies Wen Wei Dance, 605 Collective, and Out Innerspace Dance Theatre.
Josh Martin
past-chair & advisor,
cada/west board of directors

; chair,

cada/west tsp advisory council

independent dance artist / co-artistic director of The 605 Collective

Josh is a diversely trained dance artist, primarily working as co-artistic director of The 605 Collective.
CADA/West and its Members,
ensuring dance remains vital to our culture.
designed, written and built by Deanna Peters, CADA/West Communications Officer