Get to know your CADA/West
March 2015 Member's Newsletter
This edition features our Annual Member Conference, a profile of our Professional Discounts program & recent Posts of Interest from our social media channels.
CADA/West Member Joshua Ongcol by Yvonne Chew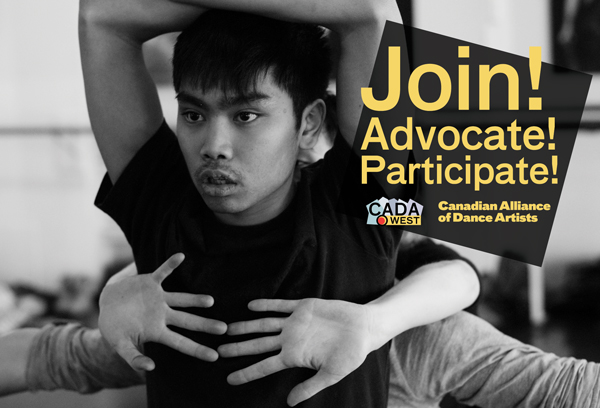 Annual Member Conference: What's the plan?
March 28, 12-4pm @ Roundhouse Community Centre Exhibition Hall, Vancouver
Have you ever wondered how you'll get from idea to goal? Do you know where you want an idea to go but aren't sure how to get it there? Join us March 28th, 12-4pm at the Roundhouse exhibition hall for our annual conference and learn how to build a plan, by building an actual plan.
We've discussed goals and directions for CADA/West a lot in the last two years and you've come up with some amazing ideas. Case in point, the Studio Subsidy Pilot Program that we're about to unveil. Studio rent is an economic barrier for a lot of dance artists and we've responded to your feedback with a new pilot program for the 15/16 year that will hopefully address these issues. This is an excellent example of how we're a member-driven organization.
All of our programs and services in the next five years will be coming straight from you. We want you to come to the conference, build concrete plans, decide how to act upon these plans and whether they should be short-term or long-term goals.
We also have a ton of other news, like the changes to the membership application and TSP program that affect all of you. Everything is going ONLINE next month and there's details that you need to know. Be in the loop!
AGENDA
12pm - Greeting, Important Announcements & Advocacy Actions
1pm - Review of Strategic Plan & Suggested Actions submitted by members
1:30pm - Elements of an Action Plan
2pm - Break out groups: Action Plans drafted
3pm - Presentation of Action Plan ideas & voting
3:45pm - Closing Remarks
If you have any questions about the conference, please don't hesitate to get in touch with us at office@cadawest.org. To our Members outside of Vancouver, are you interested in a Live Feed? Let us know and we'll set it up for you.
CADA/West Member Lara Barclay by Yvonne Chew
CADA/West's Professional Discounts program
Working to raise standards and conditions within our sector takes the whole of the community. We encourage you to take advantage of the services and discounts the following businesses/organizations provide to CADA/West members:
Business Members
Membership benefits listed on their site here
automatic joint membership with cada/west
The Canadian Dance Assembly (CDA) exists to facilitate the dynamic exchange of information relevant to Canadian professional dance of all forms and aesthetics. It strives to cultivate a strong national voice for Canadian professional dance and to support the development of resources for this field of artistic expression.
Dancer Transition Resource Centre

| dtrc.ca
$10 discount on DTRC annual membership dues
check the cada box on the form when joining/renewing
The DTRC was founded in 1985 with a mandate to help dancers make necessary transitions into, within, and out of professional performing careers. As a member of the DTRC, a wide range of programs and services are available to dancers of all forms and genres. Services include 5 types of professional counselling; resources and information; and grants for skills development and retraining.
$13 drop-in classes
present membership card at time of registration
Harbour Dance Centre was established in 1985 by partners Danielle Clifford and Pamela Quick-Rosa. Harbour Dance is at the center of Vancouver's dance scene. Their world-class faculty offers a variety of dance forms for adult dancers of all levels.
discounts on studio rental & classes
mention membership when booking
Mascall Dance Society's studio space at 1191 Jervis Street, Vancouver, features a beautiful, soft-finished wooden floor and mirrors along one wall. Chairs and audio system available for use. Studio Size: 60X35 ft (or 2100 square feet), available Monday through Thursday: 9:30am – 6:30pm. To check availability and to book space please call (604) 669 - 9337 or e-mail: admin@mascalldance.ca
#109 13786 103 Ave Surrey, BC V3T 1R9
15% discount on counselling and life coaching sessions
mention membership when booking
Sarah Flynn understands the difficulties artists face—personally, professionally and financially. It is for these reasons that she wishes to extend her services to all CADA/West members.
Vancouver International Bhangra Celebration Society

| vibc.org
live performance discounts
present membership card when purchasing
Founded in 2004, the Vancouver International Bhangra Celebration Society (VIBC) is a not-for-profit organization dedicated to elevating and promoting the Indian dance form of Bhangra, while strengthening the community we live in. VIBC organizes two major annual events, the City of Bhangra Festival and the NEXT Bhangra Competition, in addition to partnering with numerous arts and community events throughout the year.
$10 off The Dance Centre "Associate Artist" level membership
present membership card at time of registration
Established in 1986 as a resource centre for the dance profession and the public in BC, The Dance Centre has evolved into a multifaceted organization offering a range of dance activities. Dance Centre members receive discounted studio rates at the Scotiabank Dance Centre, subscriptions to Dance International Magazine, and more.
10 x 60min classes at $105 20 x 60min classes at $210 10 x 75min classes at $116 20 x 75min classes at $232 10 x 90min classes at $130 20 x 90min classes at $260
present membership card at time of registration
Blue Egg Studios offers a full-time Conservatory Program for those pursuing Triple Threat careers, dancer-singer-actor, and Dance Training Programs for those pursuing Dance careers: dancer, choreographer or teacher, etc. For those with careers outside of dance or performance but who love to dance, they also offer Individual Dance Courses for all levels.
Business Supporters
Performance Discounts
CADA/West Members receive ticket discounts at several theatres throughout Vancouver and through Dance Victoria
these discounts vary by theatre...ask at box offices if they offer a "cada discount" and be sure to have your membership card with you in order to obtain the discount
Good Women Dance Collective

| goodwomen.ca
Discount rate on tickets to performances & events
present membership card at registration
discount varies
present membership card at registration
annual subscription rate of $32
contact cada/west's program coordinator to arrange
15% off Physiotherapy Sessions
15% off Drop-in Pilates (Mat & Apparatus), Yoga, GYROKENESIS® Classes & Memberships
present membership card at registration
discounts on classes, performances, symposia
mention membership when registering/purchasing
15% off all services, studios & in-studio merchandise (classes, personal training, active rehabilitation)
present membership card when purchasing
15% off regular drop-in rates & class packages
present membership card at registration
10% off all regular priced merchandise purchased in the store—spend $250 or more and receive a 20% off gift card applicable for 6 months
present membership card when purchasing
15% off regular class prices
present membership card at registration
CADA/West Member Barbara Bourget by Yvonne Chew
Posts of Interest
Calling choreographers from across the country! @duskdances is in search of a 30 minute piece for Summer 2015
See @creativetrustTO's great blog: topics like Paying Artists, Fundraising, Artists=Entrepeneurs?, Audiences, Work Flow
How to Write a Dance: The problems of dance notation via @parisreview
How does contemporary performance respond to 'recordability'? via Momus
We have over 200 dance resource posts on our website, incl. this section on issues around copyright via @CADAWest
When is artist on artist theft ok? via Momus
We are sad to announce the closing of Cedar Lake Contemporary Ballet
The Post at 750: New Vancouver Cultural Hub Opens @PuShFestival @TouchstoneInVan @musiconmain @doxafestival
"I'm quite careful about using terms like participation, collaboration, authorship" Melanie Manchot
Teachers need training too! We've created our new Dance Educators' Seminar for professional instructors Aug 4 - 6 via @PeggyBakerDance
Barriers to creative practice for early career #artists: low income from practice and need for non #arts work via @hillstrategies
connect with us on Twitter, Facebook and see the Resources section of our website for more like this
CADA/West and its Members,
ensuring dance remains vital to our culture.
designed and built by Deanna Peters, CADA/West Communications Designer