CADA/West member Josh Ongcol; photo Yvonne Chew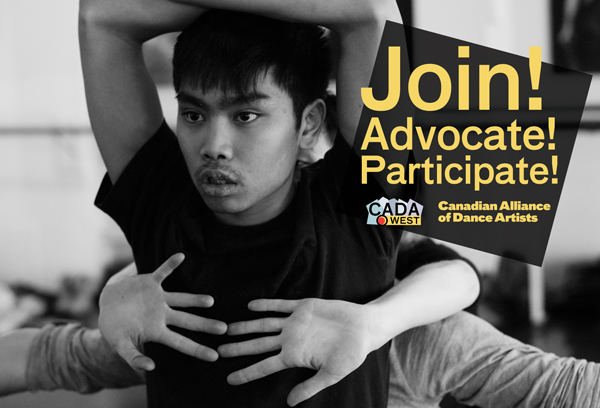 Member Conference 2015: What's the plan?
March 28, 12-4pm @ Roundhouse Community Centre Exhibition Hall, Vancouver
Have you ever wondered how you'll get from idea to goal? Do you know where you want an idea to go but aren't sure how to get it there? Join us March 28th, 12-4pm at the Roundhouse exhibition hall for our annual conference and learn how to build a plan, by building an actual plan!
We've discussed goals and directions for CADA/West a lot in the last two years and you've come up with some amazing ideas. Case in point, the Studio Subsidy Pilot Program that we're about to unveil. Studio rent is an economic barrier for a lot of dance artists and CADA has responded to your feedback with a new pilot program for the 15/16 year that will hopefully address these issues. This is an excellent example of how we're a member-driven organization.
All of our programs and services in the next five years will be coming straight from you. We want you to come to the conference, build concrete plans and then decide as a group whether or not those plans should be acted upon and whether they should be short-term or long-term goals.
e also have a ton of other news, like the changes to the membership application and TSP program that affect all of you. Everything is going ONLINE this year and there's details that you need to know. Be in the loop!
PLUS: if you register before March 11th, we'll give you a free VIDF membership so that you can access the free dance performances happening at the Roundhouse between March 12 – 28. Light refreshments will be served.
AGENDA
12pm – Greeting, Important Announcements & Advocacy Actions
1pm – Review of Strategic Plan & Suggested Actions submitted by members
1:30pm – Elements of an Action Plan
2pm – Break out groups: Action Plans drafted
3pm – Presentation of Action Plan ideas & voting
3:45pm – Closing Remarks
If you have any questions about the conference, please don't hesitate to get in touch with us at office@cadawest.org.
To our Members outside of Vancouver, are you interested in a Live Feed? Let us know and we will set it up for you.