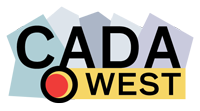 Our New Look, Our New Name
To better represent developing dance communities and our growing membership of dance professionals from across Western and Northern Canada, we have changed our name from CADA/BC to CADA/West in conjunction with the update of our visual identity.
The Canadian Alliance of Dance Artists/West Chapter will continue to provide the same services as CADA/BC, but with a farther reaching scope that considers dance artists working and residing throughout Bristish Columbia, Alberta, Saskatchewan, the Yukon and the Northwest Territories.
Are you a West/Northern Canadian dance artist or supporter? JOIN TODAY
Accompanying our new name is our new look, created by our Communications Officer Deanna Peters with input from other CADA/West staff and our Board of Directors.
Long overdue, this visual update represents our expanding geography, as well as the eclectic mix of dance forms, artists and supporters that make up our membership.
As our organization and the scope of our programs and activities grows to encompass dance artists from across the full breadth of the Western and Northern Canadian dance arts sectors, we look forward to working together to bring the business of dance to the same level of excellence as the expression of our art!
Any thoughts? Any questions? CONTACT US