Fitness Table Vancouver is our newest Business Member! As a CADA/West member you get 
*10% off group class packages that are not unlimited (class cards)
*1 month unlimited membership for $225.00 + tax (regularly $275)
*1 year unlimited w/ monthly payments of $170.00 + tax (regularly $190)
*10% off mandatory postural evaluation (regularly $90)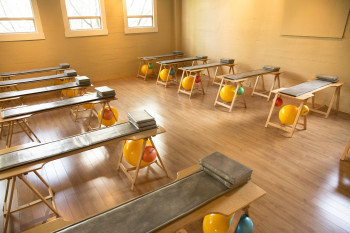 Fitness Table Owner, and Head Instructor Katharine Ford, tells us about the dance roots of this amazing cross-training system below.
1) Can you describe a little bit about Fitness Table? What is the table all about and what can a person can expect when getting started at your studio?
Fitness Table is a postural training program that teaches participants how to discover, develop and sustain core strength and excellent posture.
Each participant starts with a one hour postural evaluation. Once people do the evaluation, they join a group class.
The classes are progressive in nature. With over 800 exercises in the method, the class content changes every two weeks to ensure that the whole body is challenged and so is the brain! When people start the program there is a big emphasis on developing autonomy for correct placement of the spine, as well as the correct activation for the core musculature and breathing. Once those key components are established, we increase dynamic movement and load. This is done in order to challenge the participants ability to sustain proper alignment, as well to increase the strength and stamina of the core and the whole body.
The table is very simple in its design and allows for the participant to anchor one part of their body while displacing another. The table's design allows for the participant to be in exceptional positions which helps to target specific muscles groups, while increasing range of motion and developing strength of the spine and the anti-gravity musculature.
Rather then using and pulley systems or weights to load the body, we use gravity and one's own body weight to load. This is an important feature to help build autonomy, as we always have to work against gravity while in motion, while we carry our own body weight around.
2) Your background is in athletics, but you're interested in increasing the number of dancers that come to Fitness Table – why do you think this demographic is important to reach?
The Fitness Table method is particularly complimentary to dancers because the Fitness Table classes are designed to challenge the core and the spine in a unique gravitational context. We load the spine and the core while one's centre of gravity is displaced, similar to dance. For dancers, this is extremely important because it helps develop autonomy. The two practices literally go hand in hand.
The philosophy of the Fitness Table method is that regardless of the activity a person is doing, it is very important for one to be able to move from a strong core, and stable well aligned spine. To be able to realign the body with the use of core muscles is not only important for strength and stability, it is also important for injury prevention. These factors go above and beyond the type of activity an individual is doing.
You've noted on your website that a lot of dance companies have implemented Fitness Table as part of their yearly training. What has it taken in the past for these companies to understand the benefits of Fitness Table?
I think that a large factor was in knowing that the founder of the Fitness Table Method, Therese Cadrin Petit, was a dancer, and Patricia Maybury, owner of the Fitness Table in Calgary, was prima-ballerina for Alberta Ballet. Greater understanding came as the dancers from companies such as Les Grands Ballet Canadiens, Decidedly Jazz Dance, and Alberta Ballet became stronger, suffered fewer injuries, and had more endurance for rehearsals and shows. Dancers have been taking classes at Fitness Table for over 30 years.
We have members in BC, Alberta and Saskatchewan and other parts of Canada – is it possible for all of them to train at a Fitness Table location?
Yes! We have our centre in Vancouver, and there is one in Calgary, and there are 12 in the province of Quebec, with the main centre in Montreal.
What improvements will a dancer see if they start doing Fitness Table and when will they start seeing those results?
Some of the benefits dancers will see from training at Fitness Table are specifically:
Improved economy of effort
Development of long lean muscles to help lengthen lines
Connection and integration of movement through the whole body
Improved posture and strength of the anti-gravity musculature
Most dancers will feel a difference after their first class, and certainly within the first 6 weeks of taking class.
Thanks Katharine! Don't forget that Professional and Emerging professional level CADA/West members can be reimbursed for the cost of classes through the TSP program!