Get to know your CADA/West
December 2014 Member's Newsletter
This edition features the CADA/West Raffle Draw & Member Party, a wrap-up of the member-driven strategic plan; and a message from the CDA about your member profile on their site.
Sara Coffin by Yvonne Chew
CADA/West Raffle Draw & Member Party
We're drawing for the winners of our annual fundraiser Raffle this Saturday December 13, 4:30pm at Chill Winston in gastown. We invite all Vancouver-area members to join us for a winter celebration.
2 more days to buy your tix:
Tix just $10! 3 pack of tix just $20!
phone to buy tix: 604.606.6414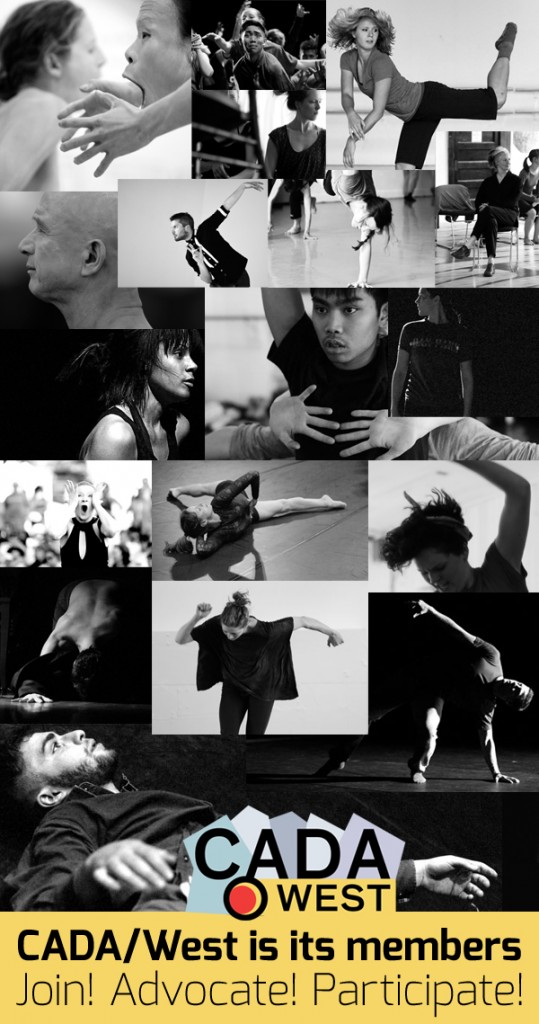 Molly McDermott, Carolyn Chan, Ralph Escamillan, Meredith Kalaman, Jennifer Mascall, Thoenn Glover, Josh Beamish, Lexi Vajda, Jay Hirabayashi, Josh Ongcol, Alexa Mardon, Amber Funk Barton, Barbara Bourget, Lara Barclay, Jamee Valin, Deanna Peters, Josh Martin & Diego Romero; photos by Yvonne Chew
Member-Driven Strategic Plan
Our Program Manager Jessica Wadsworth wraps up our recent member consultations in this document, containing the characteristics and goals of our Strategic Plan 2015–19 and Proposed Actions 2016–19.
Thanks to Kristina Lemieux for facilitating the member consultations, to the members who participated in the consultation process and to everyone who came out to discuss our findings. Feel free to contact us at any time.



Your member profile on the CDA website
Dear CADA Members,
For those who may not know who I am, allow me to introduce myself. My name is Ericka Wagner and I am the Membership Coordinator at the Canadian Dance Assembly (CDA).
Did you know that the CDA has a Membership Directory listing on its website? Our Directory allows members to promote their work and we want to be sure that you have the information you need in order to keep your listing current. Within your personal listing you can include a bio, contact information, photos and even YouTube or Vimeo links to your work.
Activating and animating your listing is easy! Just visit our website, look for the login button on the top right of the page. (Or just click here) and follow the prompts to set up your directory. Voila! As your work or contact information changes so can your listing, you can log in at anytime to make amendments to your profile. If you forgot your username/password just click here.
But wait, did something go wrong? No worries! That is what I am here for. If the website does something unexpected, or any links do not show up properly, all you have to do is contact me at the office: 416-515-8444 or send me an email: ericka@dancecanada.net. I'll make sure that everything runs smoothly and any problems get fixed.
My door is always open and I would love to hear from you if you have any questions about getting your profile started.
All the best!
Ericka Wagner
CADA/West and its Members,
ensuring dance remains vital to our culture.
designed and built by Deanna Peters, CADA/West Communications Designer