Vision:
We envision a world where dance artists are socially and economically celebrated.
Mission:
We pursue resources, opportunities and partnerships that empower dance artists.
Mandate:
We achieve our mission through the maintenance and development of our core programs, in consultation with our members and stakeholders:
Training Subsidy Program for dance artists
setting professional Fees & Rates Standards for pay and working conditions
creating contract templates like the Basic Dance Agreement
providing professional tools and Resources for managing a career in dance
providing Outreach opportunities for dance artists to network, collaborate and share resources with one another
maintaining partnerships with other similar organizations that support dance and the cultural workforce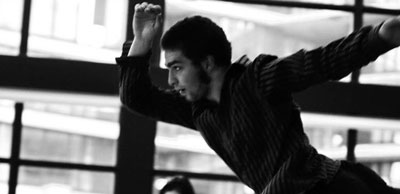 Diego Romero; photo Yvonne Chew
CADA/West Timeline:
1992 Workers Compensation coverage established for BC dance artists through membership letter writing campaign
1997 First version of CADA/BC Basic Dance Agreement
1999 Incorporated as a provincial organization
2000 Training Subsidy Program established
2001 Second version of CADA/BC Basic Dance Agreement
2002 Professional Contemporary Technique Classes & Workshops initiated
2006 CADA/BC becomes a member of the Standing Committee for the Performing Arts for SHAPE BC (advisory organization to WCB BC)
2008 Communityzero, online Members site, launched through CADA-ON
2008 First version of CADA/BC Fees & Rates document
2009 CDA joint membership initiated
2009 third version of Basic Dance Agreement
2011 Dance Response Program
2012 updated Fees & Rates Standards
2012 1st annual Members' Unconference
2013 public name changed to CADA/West, to incorporate growing membership
2015 updated Basic Dance Agreement
2015 members voted to update Fees & Rates Standards minimums to refect a unifed national average with CADA-ON
2017 initiation of Studio Subsidy Program
2019 increase in Training Subsidy Program reimbursement amounts
2019 initiation of Childcare Subsidy Program
We support dance artists at all stages of their careers. As our membership grows to encompass dance artists from across the full breadth of the Western and Northern Canadian dance arts sector, we look forward to working together to bring the business of dance to the same level of excellence as the expression of our art!