Guidelines
CADA/West recognizes dance from all cultures, traditions and movements. Whether you're a dancer, choreographer, teacher, mentor, student, cultural leader, artistic director, arts manager, writer, business supporter, avid audience member… working and residing throughout BC, Alberta, Saskatchewan, Manitoba, the Yukon and the Northwest Territories… our Programs, Resources and Outreach are designed to serve your needs.
Who should join?
Do you dedicate a considerable amount of time to dance? Is dance part of your career? Is dance part of your religion, lineage or culture? If so, we encourage you to join!
The chart below helps determine what level of membership to apply for. If you don't identify with any one category, please contact us. We're happy to chat with you to determine what programs and services would serve you best. We want to work with you to ensure you are well-supported and safe in your practice/career. You can include a biography on your application form instead of a CV. Just make sure it details your training, performing and the context of your practice, wherever and whenever it takes place.
Membership Levels & Rates
CADA/West annual membership renews each year on March 31st
| | | |
| --- | --- | --- |
| Levels | Rates | Eligibility |
| Professional Dance Artist | $70 | employed professionally as defined by the Canadian Artist Code with 2 years or more professional experience |
| Emerging Dance Artist | $60 | pursuing professional artist employment as defined by the Canadian Artist Code |
| Student | $30 | training in an educational institution or with a recognized teacher |
| Associate Professional | $50 | dance teachers, administrators, stage managers, technical staff, dance and theatre companies, etc. |
| Friend | $15 | members of the public |
| Business | $60 | business members help CADA/West grow and/or offer discounts on products/services to members. |
Membership Benefits
Nation-wide Eligibility
Although CADA/West is a regional organization, CADA/West membership is available to dance artists and students from across Canada.
If you're already a member of CADA-ON or RQD, then you are only eligible for the CADA/West Associate Professional level of membership.
Our open membership policy recognizes the nomadic work-life of many dance artists and the distribution of the dance community across Canada in both urban and rural centres.
CDA Joint Membership
CADA/West offers automatic joint membership with the Canadian Dance Assembly to all Professional, Emerging, Associate and Student members.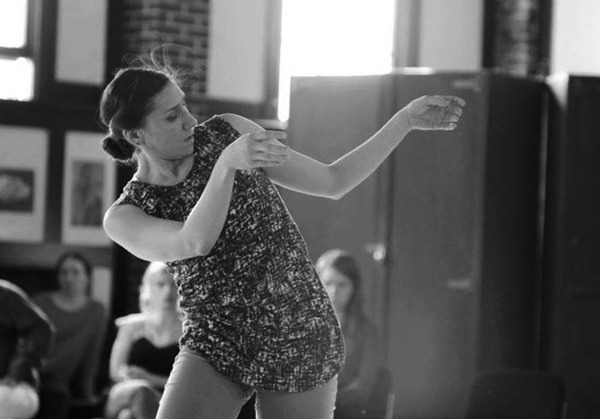 Jeanette Kotowich; photo Yvonne Chew