Getting Hired, Getting Paid: Contract Workshop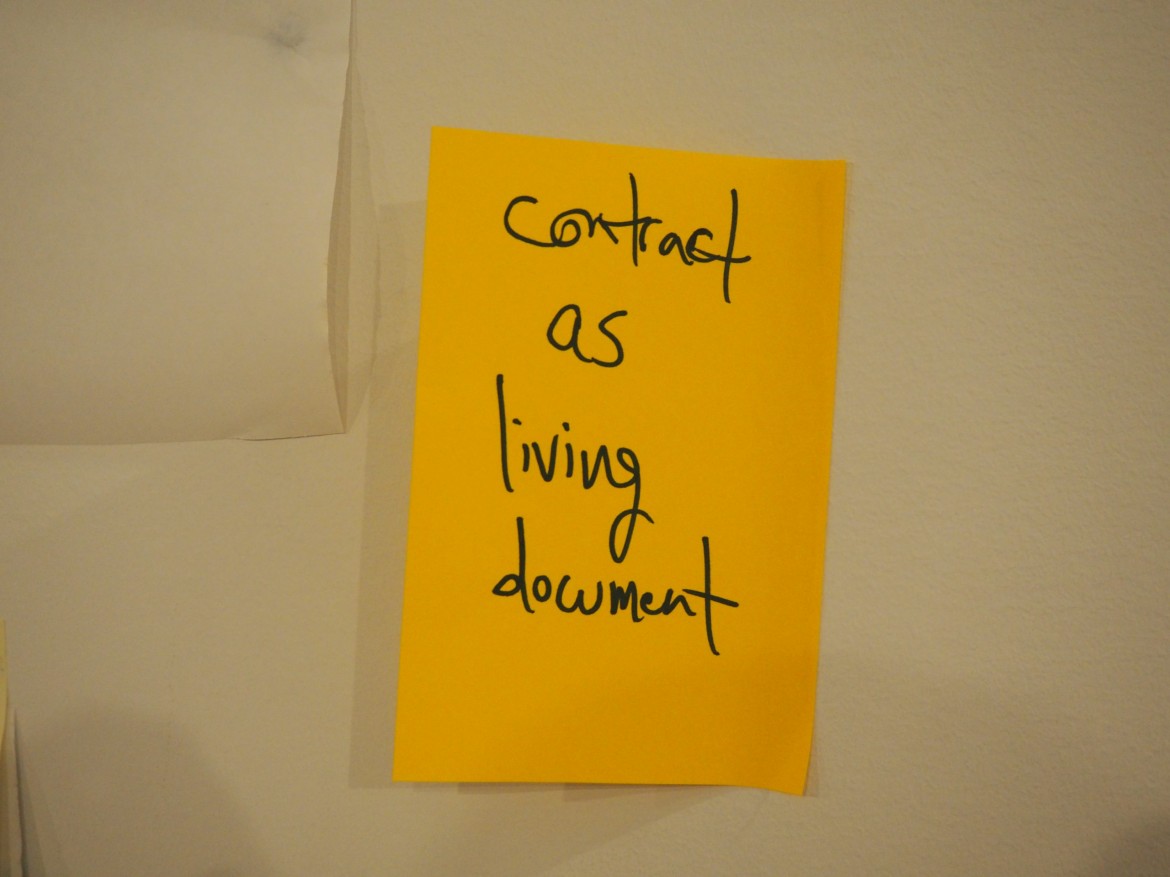 Goals
bring awareness to the resources available on CADA/West's website
bring awareness to the kinds of jobs that an early-career dancer might engage on
generate ideas for negotiating the best possible terms for the dance artist
develop a sense of solidarity as cultural workers that want to raise standards
Intro
CADA/West can help you in your career after you finish your basic training. You are mastering how to use your artistic tool, but how well-trained are you as a self-employed contractor, company manager and/or entrepreneur? A dance career requires you to know how to advocate for yourself and your fellow workers.
Discussion
What is a labour organization?
What is a contract?
Why do you need a contract?
Why do you need workplace standards?
An artist will always need to advocate for the best possible pay and conditions.
CADA/West Website and Resources
Under the Program Basic Dance Agreement you'll find the Basic Dance Contract, a contract template you can use as a guideline for figuring out terms of work. The accompanying Basic Dance Policy establishes guildelines around working conditions – breaks, pay schedules, rehearsal schedules, publicity, nudity, touring, etc.
The CADA/West Fees & Rates Standards recommend minimum rates for different types of dance work, so you don't have to guess what you should charge!
The CADA/West online Resources provide information to help guide your decisions, inform you of your rights and responsibilities and link you to organizations that can support you.
Activity – Working Scenarios
Scenario # 1 – a public performance
The Vancouver Public Library wants to animate their mezzanine for World Poetry Day – an even that is open to the public and is free. They have asked you to perform a ten minute solo, three times that day. They can only pay a $75 honorarium. What else can you ask for to help off-set your own costs (think about your time preparing, costuming, travelling, spending the day there, etc.).
Scenario #2 – Working with Friends
You and three friends are creating a 20-minute work to perform at an event that showcases emerging artists. Tickets will be cheap (like $5) and there will be a bar. The organizers intend to split the box office and the bar with artists after the venue expenses have been paid. You can each expect to receive about $25. What can you and your friends do to create a fair and reasonable experience for yourselves? Think about what each artists' resources are (car, studio space for rehearsing, costumes, music, social media etc.)
Highlights and Open Questions
You should always have a contract, even if you're not getting paid. There are many other resources to negotiate. A contract is a living document. Regular check-ins are recommended throughout a process to see if anything needs to shift or change. Community Agreements and Collaborator Worksheets are also handy resources.