An Incomplete List of Things You Need to Make it Work
At the 2012 on the MOVE, conference for emerging dance artists, hosted by the DTRC in Vancouver BC on February 10, I had the pleasure of listening to the Making it Work! Entrepreneurship 101 panel featuring Moe Brody from Harbour Dance, Kim Sato from Project Soul, Barb Clausen from DanceHouse and moderated by independent dance artist Caroline Liffmann. They spoke about their stories and expertise in the business of dance. Basically they talked about making it work.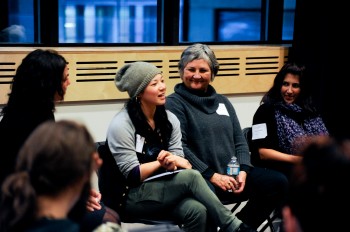 They compiled an incomplete list of things you need to make it work:
be passionate
be extremely articulate
learn bookkeeping and accounting skills
be a hot dancer
have networking skills
remember technique
do maintain consistent training
know how to write an artist statement
have a bio on hand
know how to communicate, and do communicate!
make it a pleasure doing business with you
have a current CV on hand
make a website
be prepared (for auditions, for meetings, for whatever you're up to)
work your marketing skills
take time to build up your work experience
stay calm- don't panic!
know who you are
The day was entitled Community in Motion and focused on advocacy and being an active and integral part of the dance community at large.
-Kristina Lemieux, Program Coordinator, CADA/BC