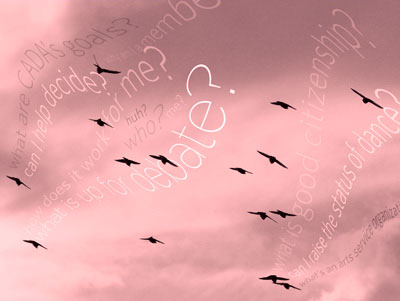 Save the date!
The 2014 CADA/West Annual Conference will take place May 10, 1–5pm at the Vancouver Art Gallery. Stay tuned for more details, but this year's theme is Communication.
Many ideas and actions...
PROGRAMS…RESOURCES…PROGRAMS…RESOURCES!
Our newsletter & website POSTS give insights into managing a professional career in dance, as well as updates on CADA/West programs and services: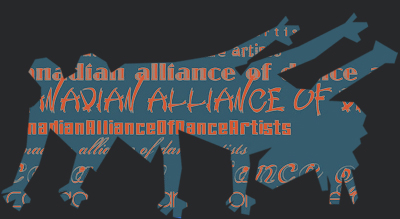 ADVOCACY…ADVOCACY…ADVOCACY…ADVOCACY…YOU!
Our monthly ADVOCACY CHALLENGES, Speak with your Feet, promote activities pertinent to keeping dance vital all year through:
Speak With Your Feet
Speak to someone, everyday, about your art. Talk about dance with those you love, as well as to complete strangers.
How often are you confronted with questions about...
Summer dance research time?! Looking beyond our town, city, province, country, the dance community is massive. Dance on film/video is a great way to see what is going on in our...
Summer is a great time for research, perhaps to start thinking about new projects or because, with a bit more time on our hands, we just can. Please find below links...
Staying connected with various regional organizations, the services they provide, the events they promote, is a great way to discover what is going on in our field across the country and can provide...
The Dance Current, on the web and in print, is a great resource for what is going on in dance all across Canada. CADA/West members receive a discount on subscriptions...
DCD is committed to the ongoing process of preserving works of dance artists through documentation, maintaining a bank of work for future reference and performance. They also encourage artists and...
The National Film Board is a great resource for films on dance and every other subject, new and old, most of which you can watch for free on their website.
Next month BC heads into provincial elections. We encourage you to take a few minutes to handwrite a thank you card to our politicians. Let them know how government funding means jobs, creative...
Are you an advocate for professional standards in dance? Great at fundraising? Passionate about training? Looking to develop new skills? Plenty of organizations rely on the contribution of committee members and joining is a...
What better way to learn more about the creative process, or get in on what inspires your favourite artist, than directly from the source? Artist talks, salons, and audience Q & A's after performances...